In this post, we will list  SAP MM book/books authored by Martin Murray.
Martin Murray a native of London, England . Upon his graduation from Middlesex University in 1986, joined the computer industry.
In 1991, he started working for  London based multi national beverage company in materials management area (SAP R2). In 1994, he moved to United States to work as SAP R3 consultant.
He works for IBM global business services for  more than 15 years and has been implementing materials management and warehouse management functionality throughout the world.
His experience in SAP includes managing global supply chain and implementation projects in a number of industries, including aerospace, consumer product goods (CPG) and pharmaceutical.
Materials Management with SAP ERP: Functionality and Technical Configuration(SAP MM) (4TH Edition) (SAP PRESS)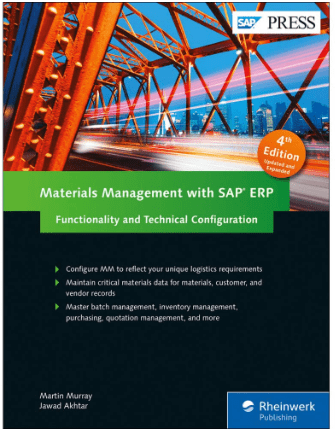 This is comprehensive, updated guide to configuration and functionality of Materials Management implementation. Whether you work with SAP MM or with SAP peripheral applications, you'll learn in and outs of Materials Management in SAP ERP from goods receipt to invoice verification, special procurement types and early warning systems.
 Dive into master data and other configuration tasks to ensure your SAP MM system is optimized for your logistics needs!
This is a LATEST EDITION.
What you will l
earn from this book?
Configure MM to reflect your unique logistics requirements

Maintain critical materials data for materials, customer, and vendor records

Master functionalities like batch management, inventory management, purchasing and quotation management.

More advanced tasks like forecasting, classification systems and special procurement types.

Configure settings for critical processes 

Expand your understanding of MM processes with expert advice, real world examples and sample business scenarios.
2. Materials Management in SAP ERP: 100 Things You Should Know About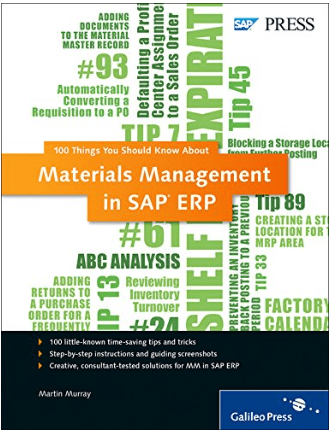 Book Details
Perfect Paperback: 316 pages
Publisher     : SAP PRESS, 1 edition
Language     : English
ISBN-10       : 1592294383
ISBN-13       : 978-1592294381
Dimensions : 7*0.8*9 inches
" SAP PRESS" equips you with "100 Things" that unlock the secrets of Materials Management in SAP ERP.
Book Features
This book is for users of all levels, and will simplify your work.
You can save your time with shortcuts and workaround so to complete the daily tasks faster and elegantly.
Full of screenshots and instructions with new tips and tricks like work with MM user exits.
Discover new ways of doing work
Example
Tip 15: You can add documents to a Material Master record.
Sometimes there's relevant information that can't be entered into the material master file, such as CAD drawing or scanned document.  Rather than figuring out how to send them to all parties, you can easily attach documents to the material master so that they can be viewed. Find out more on page 50!
3. Materials Management with SAP ERP: Functionality and Technical Configuration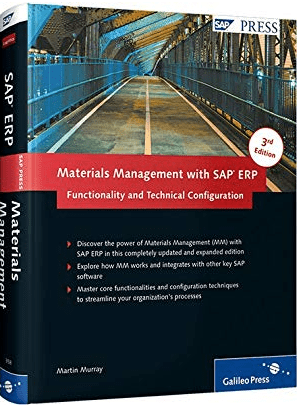 This book provides comprehensive and expanded overview of the various functionalities and configurations needed for SAP MM.  This is ultimate reference for everyone looking for MM information or need to get up to speed on Materials Management in SAP ERP. This is a 3rd Edition book.
There are different topics covered, from goods receipt and invoice verification to balance sheet valuation and material ledger
This book is one step guide to help you to understand and master SAP MM and work more efficiently.
Book Highlights
Material and Vendor Master Data
Purchasing information data
External Services Management
Purchase Requisitions
Request for Quotations
Inventory Management
Goods Issue
4. Materials Management with SAP S/4 HANA (First Edition) (SAP PRESS)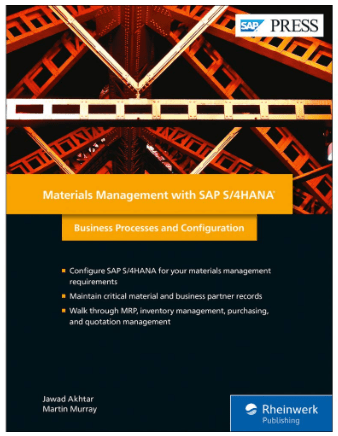 Book Details
Hardcover     :   965 pages
Publisher       :   SAP Press
ISBN-10         :   1493217410
ISBN-13         :   978-1493217410
Dimensions  :   7.1*1.8*9.3 inches
Looking for MM in SAP S/4HANA? Whether your focus is on materials planning, procurement, or inventory, this guide will teach you to configure your critical processes in SAP S/4HANA. Start by creating your organizational structure and defining business partners and material master data.
Then get step-by-step instructions for defining the processes you need, from creating purchase orders and receiving goods to running MRP and using batch management. MM is here!
Mr. Jawad Akhtar is co-author of this book.
Our SAP MM posts:
Subcontracting Process In SAP MM
Vendor Consignment Procurement Process